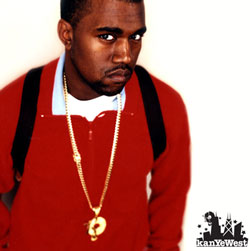 In a recent edition of a
college publication
, an author writes, "Hip-hop has officially embraced Barack Obama, or 'B-Rock as 'Vibe' magazine likes to call him."
There are two fundamental problems with this, the most glaring of these being that hip-hop cannot officially endorse anything. Hip-hop has no official center, no external organizational force that all of the hip-hop generation must conform to. This is precisely its
power
; it is an autonomous bottom-up expression of the most varied social experiences with an emphasis on working folks of color and the unemployed. Now, perhaps we can say that a few of the more marginal spokespersons (Common, Kweli, et. al) and bankrupt publications like Vibe have thrown their individual hopes behind Obama. But this means just about as much to the hip-hop generation as Rev. Calvin Butts saying he's not against rap, but against thugs. We don't care.
Secondly, an overwhelming majority of people do not vote. And they don't vote out of sheer principle nor because they feel neither potential candidate represents their interests, but because they sense and understand the insolvency of official society in remedying a nation in decay.
They
know
, even if they can't individually articulate it, that society is beyond repair, that barbarism is a gangrene that is festering and turning our society into a rotting corpse. It must be cut off. Only they can do it by their own attempts to reorganize society on a more human basis.
Implicit within hip-hop, as C.L.R. Odell has indicated elsewhere on the blog, is the saved-up historical experience of the previous generation. Because of this, we know (again, not always consciously) that whatever gains we've made in this country has been through our own autonomous activity, activity which has broken away from the bureaucratic elements which have attempted to contain the movement within its institutions.
For the hip-hop generation, the question is not between Obama or Clinton, voting or not voting, but between life or death, socialism or barbarism, the self-organization of working people or the bureaucratic plans of existing and aspiring rulers.
People will always vote if they have the ability, and in the U.S. it is safe to say that with certain fluctuations most will not vote. We are not living by the philosophy of prosperity posed by Emancipation, Reconstruction, and the opening up of the Great West. Society is cannibalizing itself because officialdom is blocking the way of development of ordinary folks' independent capacity for organization of all society's affairs. Only they can organize it on a reasonable basis.
The D&HHP does not endorse any candidate so much as it doesn't attach its hopes for another world on traditional politics. Contrarily, we do not advocate abstention from voting. To encourage people to vote or to abstain is a futile effort and yields nothing. These tensions between the view of official society's permanency and the implicit new society that is found in the resistance of common people on the job will exist as long as the current arrangement prevails.
Towards the new society!
You know the kids gonna act a fool when you
Stop the programs for after school and they
DCFS, some of them dislexic
They favorite 50 cent song 12 Questions we scream
Why 'spose we start?
See now we smart
We ain't retards the way teachers thought
Hold up, hold fast
We make more cash
Now tell my momma I belong in that slow class
It's bad enough we on welfare
You trying to put me on the school bus with the space for the wheel chair
I'm trying to get the car with the chromy wheels here
You trying to cut our lights out like we don't live here
Look at what's handed us
Fathers abandon us
When we get the hammers go and call the ambulance
Sometimes I feel no one in this world understands us
But we dont care what people say
Kanye West,
We Don't Care